Hello Edith .... Again, THANK YOU :) !! Yesterday I returned home exhausted but lighter at the same time and in the evening all of a sudden, I finally managed to breathe! My first deep breath in 10 days !! I'm still coughing a little bit but I can feel the healing coming when yesterday before i saw you, I could not see the end of it! No more fever, no more coughing, I'm finally getting some sleep !! Thank you again for everything you giving me, I always come home feeling better, it's magic :)! I'm happy to have you in my life.
Aline, 33 years old, Pau
SEVEN © Energy Treatment at the office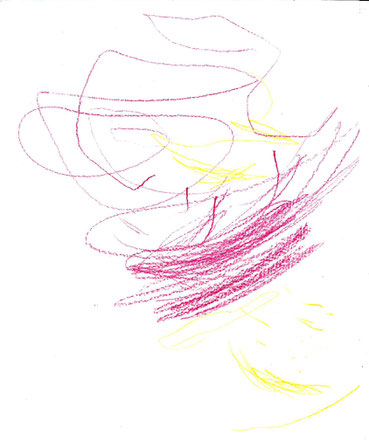 Here is the work of Léa, 3 years old, who I received accompanied by her mother for an energetic care because she showed a lot of stress and anguish since her parents separated.
Later that same day, I received this text: Thank you for Lea, she's feeling a lot better, it's nice for her! She is less dependent on me, it feels good to see her more autonomous, playful and serene. I'm amazed by the spectacular quick effects of  the care on a child! I'll be back :) !! "
Lea can now sleep alone again in her own room
Léa, 3 years old, Pau
SEVEN © Energy Treatment at the office
"It felt like a moment of grace, there's a life in me, before I was dead, my inner child jumps up and down with joy, she's so happy, my heart opened, a connection was lit up on my crown chakra and a light came down, I can still feel  it , filling me up, I have no words to describe how I feel ... "
With these words I express to Edith what I felt during the last energy treatement session. I thank her very much for having accompanied me all these years, always with patience, benevolence, confidence and without judgment. It was a real inner journey which was sometimes painful and discouraging, but also so incredible, surprising, rich in simply beautiful teaching. It allowed me to find myself, to really love myself and to feel confident and in harmony with the universe.
Nadine , 56 years old, (33000 Bordeaux)
SEVEN © Energy Treatment by phone.
---
I train in psychotherapy and I work a lot on me. I find that Edith's approach is very complementary. I am learning to communicate with my inner child and to provide support in this way. Right now my mother is slowly dying out because of an incurable disease and I'm going through it with inner peace thanks to Edith. I think she has a lot of sensitivity and an extraordinary sense of listening.
 Isabelle, 37 years old, Vannes (56000)
SEVEN © Energy Treatment by Skype.
"The first words that come to me thinking of Edith and the work I do with her are ETHICS, trust and benevolence.
It is thanks to her unfailing ethics and her absolute respect for others that I have been able to develop the necessary confidence to go through this fundamental work. The difficulties encountered, sometimes very intense, have always been compensated by her benevolent support, which is always present. The path I have traveled through Edith's accompaniment has transformed my life like no other accompaniment has succeeded in such depth and stability of result. With Édith I was able to clean very deep layers that polluted me and poisoned my daily life, even that prevented me from living my life.
It's a real commitment to do this work ... but the result is HERE! Thank you Edith to exist :) !!! "
Laure, 58 years old Vienna (38200)
SEVEN © Energy Treatment by Skype.
"Thank you Edith for this inner journey that you help me, so sweetly and powerfully, to accomplish. I say inner journey but what beautiful extensions in everyday life! Thanks to you, little by little, my remoteness is fading away, my anxieties are calming down, the part of me that is so scared is allowed, over time, to find inner security.
At each session your presence, your voice, your art, are the breadcrumb trail of a deeper return to what is essential to me, along with the gradual discovery of a horizon. The spider webs that were tying me down are loosening out.
I admire the relevance and quality of your sensitive perceptions and the way you master time and space. "
Alice, 64 years old Lille (59000)
SEVEN © Energy Treatment by phone.
After several sessions with Edith, I really changed. I can easily breathe, my sinuses are unblocked, my sneezing and pain are forgotten and I my lost sense of smell came back! My skin problems have disappeared and my itching too.
The deep ties are loosening out, I breathe on a more subtle level and my guilt fades away.
I feel that in the care there is an energy that comes from a higher dimension, from soul to soul, all over us.
Laurence, 71 years old Pau
SEVEN © Energy Treatment in the Office
"Thank you ... Thank you Edith for your work for two months .. thank you for your empathy, your listening, your words that at one time or another echo, resonate and make me go on, understand, forgive ... your soothing voice that gives meaning to evil actions and hurtful words ..
I do not know how "you do this"or how "it works", but since we started, I've been soothed. The road is still long, but thanks to you every week, we are progressing. Thank you for your kindness.
Marine, 48 years old Paris (75000)
SEVEN © Energy Treatment by phone.
Since I started the Energy Healing Care sessions with Edith, I found a very nice listening, a deep benevolence, as well as a precise and accurate analytical look but in addition I see changes in my life that are at once positive and amazing. I recommend to experience it to evolve towards wellness.
Alexandre, 44 years old, Bordeaux (33000)
SEVEN © Energy Treatment by phone.
...."I sleep well and my nights are now restful. I feel that my weariness has disappeared.
I feel peaceful inside. I don't over think like I used to. I know can say the word anger when I see that someone is upset.
A week has passed and I can still feel the amazing sensations of the healing care, when i was under the impression that something inside me was opening up letting go a part of me which was trapped somewhere. I felt as if something was lifting me up and gently laying me down back on my bed. And all these sensations on my right side and all these unusual jaws movement I had during the session. It was so powerful."....
 Anna, Bordeaux (33000) SEVEN© Quantum Healing Care by phone.